If you are into backcountry snowmobiling and do not have an avalanche backpack this is your sign. Stop everything you are doing and buy one right now! Heading into avalanche territory without the proper safety gear is a death wish. We have lost too many friends and fellow riders to mother nature. Get the gear and know the conditions before you go snowmobiling in the mountains.
Now that we are done lecturing you, let us address the fact that you more than likely have already realized the dangers of the sport and you are here to help make your decision on which avalanche backpack you should buy.
Throughout this article we talk about the BCA Float 15 Turbo Avalanche Backpack 2.0, what we like and do not like about this backpack and how it compares to other avalanche backpacks offered by BCA. 
For those unfamiliar with Backcountry Access, aka BCA, they are a well established company that sets out to save lives through the creation of reliable, easy to use products and consumer education. They believe, as do we, that the simpler a product is to use the more effective it will be. 
They also believe the best product is the one you know how to use. We could not agree more. Learning about your gear and practicing using it is essential for using it when it is actually needed. 
BCA Float 15 Turbo Avalanche Backpack Review 
The BCA Float Turbo is an avalanche backpack that was originally designed for backcountry skiers and snowboarders, but turns out to be a fantastic option for backcountry snowmobilers as well as we also carry much of the similar gear as other backcountry enthusiasts.
This 150 liter airbag was designed to help you float in an avalanche and also protect your neck and head from trauma. This airbag does not ensure your survival, but does increase your odds.   Check out of the Float 15 Turbo!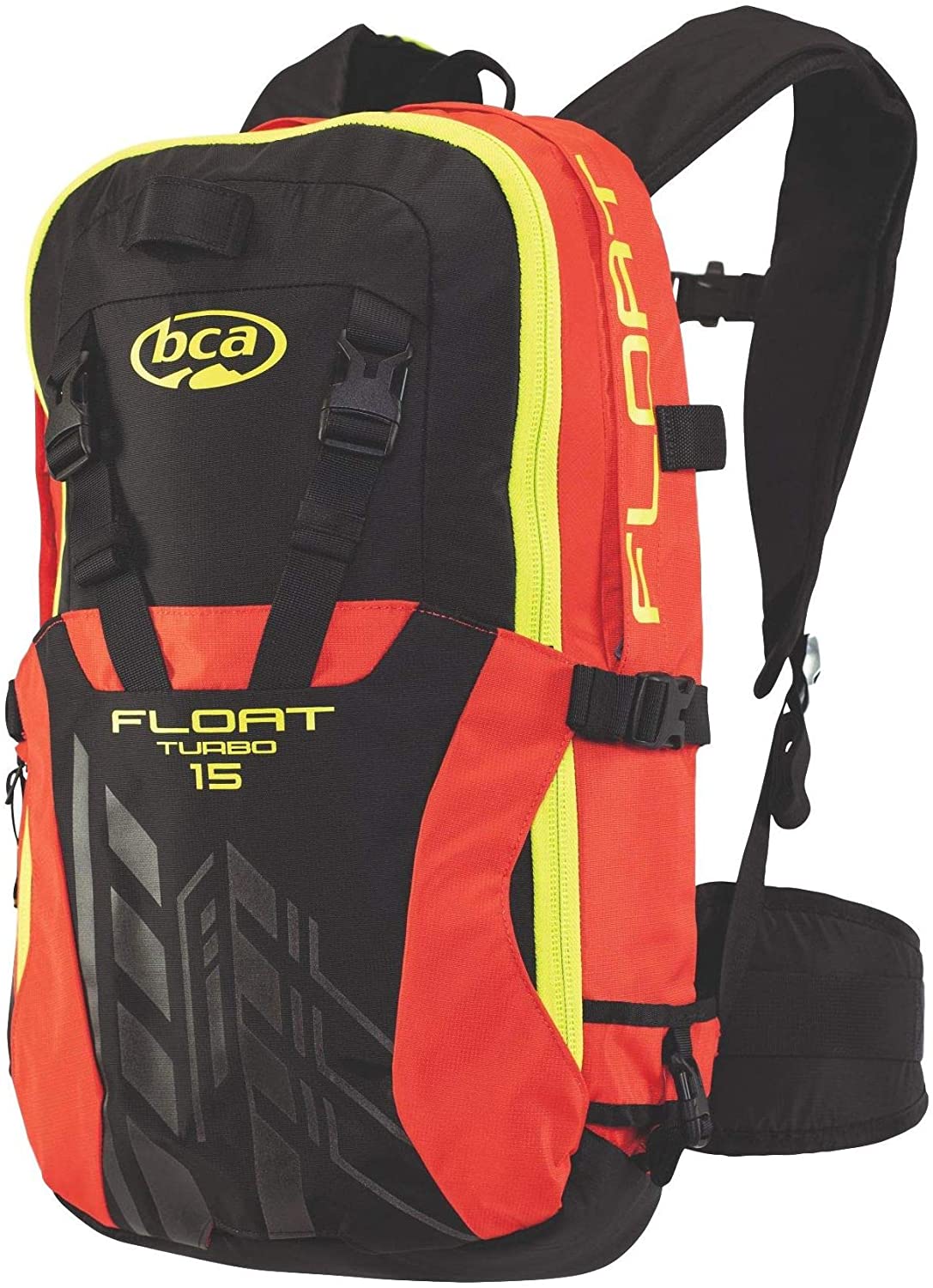 Everything You Need To Know
A compressed air cylinder is needed to inflate this bag. The Float 2.0 Air Cylinder is sold separately for $199.95 USD. On top of that you will also have to pay a $35 USD hazardous shipping fee. This air cylinder  is required in order for your avalanche backpack to work the way it is supposed to.
With the air cylinder being one of the biggest inconveniences of this bag, BCA has done their best to make it less of an inconvenience by establishing over 200 refill locations across the world. The Float 2.0 Air Cylinder is filled between 2,800 and 3,000 psi. This air cylinder is 30 percent smaller and 15 percent lighter than the previous Float 1.0 Air Cylinder used with the 
Bag Storage
This bag has many features outside of its inflatable airbag including external storage spots for your shovel and shovel shaft, a tool sleeve, an internal fleece lined goggle pocket, radio pocket with external access, an adjustable waist strap and a molded back panel. One feature this avalanche backpack lacks that we are a little disappointed about is an internal pocket for your probe. 
Looks
This red and black 15 liter avalanche airbag is stylish. We really like the brightness of this color scheme as it makes spotting a downed rider even easier in all the white snow. This is a simple touch that does a lot more than a person would think. Not only does it make a rider more noticeable in an avalanche it also makes riders more visible throughout your ride. BCA calls this color scheme "Warning Red/Black" and now you know why. 
Price
Costing only $529.95 USD the Float 15 Turbo seems surprisingly cheap, until you remember you have to buy the Float 2.0 Air Cylinder for $195.95 USD and also pay an additional $35 USD hazardous material shipping fee. When all is said and done you are all in on this setup for roughly $760 USD, which is still a little cheaper than something like the Klim Aspect 16 for example.
We hope you never have to refill your air cylinder, but that will also cost you a few bucks each time you need a refill. The only time you would need a refill is if you deployed your nag and used the compressed air in your cylinder. 
Weight
This backpack is only a 15 liter backpack which is nice when it comes to weight. Weighing only 6.1 pounds with a full air cylinder this avalanche backpack is rather light. We all know a day on the mountainside is exhausting. Having the least amount of weight on your back is important when it comes to conserving energy. BCA did an excellent job keeping the weight of this backpack on the lower side. 
Warranty
Did we mention that BCA offers a 3 year warranty on the Float Turbo 15? They truly do stand behind their products and want to ensure the safety of their customers. It is unlikely you will have an issue with any of BCA's products, but if you do rest assured their 3 year warranty is there to keep you going. 
How the BCA Float Turbo Avalanche Backpack 2.0 Works 
Using this avalanche backpack is quite simple, but without the proper knowledge and practice it will be relatively useless. Like we said earlier, knowing how to use your gear is the only way to ensure it is as effective as it can possibly be while out riding.
BCA understands the level of stress in an emergency situation is extremely high and most individuals act on adrenaline. With this in mind they have made their products very easy to use. 
Before you head out for a day on the mountain you will want to make sure you have a full air cylinder and that it is properly connected to your backpack. Once this is achieved you are ready to go. In the event of an avalanche simply pull downward on your handle and your airbag will inflate. It is actually that simple. 
Once deployed your airbag will not be ready for use again until you repack it into the backpack and refill your air cylinder. This is inconvenient, but at the same time who would stay out riding after experiencing an avalanche? You can bet our day would be over and we would be heading back to the lodge to decompress and prepare ourselves for our next ride. 
Traveling with the BCA Float Turbo Avalanche Backpack 2.0
Traveling with the Float Turbo 15 can be difficult if you plan on traveling by plan. Airport TSA does not like people bringing compressed air cylinders onto airplanes that reach elevations exceeding 36,000 feet in the air. These two things just don't add up and would result in very bad things.
With this said, if you are planning on taking your avalanche backpack on an airplane with its air cylinder, the best thing to do is to empty your air cylinder with the head detached. It is important you discharge your air cylinder before arriving at the airport. We suggest putting your air cylinder and its head in separate plastic bags and carrying them through airport security so they are visible to the TSA agents. 
Once you arrive at your destination, locate a refill center to either exchange your air cylinder or get it refilled. If no refill center is available at your location high pressure floor pumps can be purchased to refill your air cylinders yourself manually. BCA suggests the Benjamin Aire high pressure pump from Crosman Corporation. You can pick one of these up online for roughly $150 USD. 
For international travel the International Air Transport Association has approved avalanche backpacks with pressurized air cylinders for travel. Check with your airline for permission and for them to check through your luggage if needed.
BCA also recommends printing off the IATA Dangerous Goods Regulations to place with your avalanche backpack in your checked luggage. Long story short, traveling with the Float Turbo 15 can be complicated. Check travel recommendations for more specific advice depending on your destination before traveling. 
Our Thoughts 
At the end of the day we like it. Would we buy it? Yes! We are not a particular fan of compressed air operated avalanche backpacks, but there are so many riders out there using them. They are without a doubt a good, reliable option.
The biggest downfall in our opinion is the limitations, maybe more so complications, of traveling with these avalanche backpacks. The nicest part about them is that they save you a little money compared to an electrically operated avalanche backpack such as the Klim Aspect 16 or Atlas 26. 
BCA makes a few other backpacks that include more storage if the Float Turbo 15 does not fit the bill for you. We happen to prefer the Float Turbo 15 as it is lighter and more nimble than larger bags that can sometimes be more straining and somewhat bulky at times. The Float 15 Turbo is a great all around bag that won't give you a sore back at the end of the day. 
If you are rocking a BCA Avalanche Backpack let us know what you like and dislike about it in the comments below or send us a message on any of our social platforms @sledheadzzz. We are always in the mood for some good snowmobiling chats. Stay safe out there and remember to always know before you go. Happy braaping!