If you are sentenced to a life behind bars, choosing the right snowmobile handlebars for your sled is a must. Having the right set of bars for your riding style is always nice, but even more important is having handlebars that fit you. Yes, you read that right… it is important to make sure your handlebars fit you if you are looking to develop your riding abilities. Having the right bars will also keep you more comfortable on your sled which in return will keep you on the snow longer. 
Best Snowmobile Handlebars 2021 
There are numerous options when it comes to choosing which snowmobile handlebars are best for you. Below we discuss the top 5 brands in the industry, their range of products, why we like them and what they have to offer you. Before we get started we would like to mention that you really cannot go wrong with any of these options. We do firmly believe that having a handlebar that fits your body type is a must. As far as brand goes, we truly are unbiased. We are still rocking stock snowmobile handlebars on our sleds, hence why our final pick on the list is stock. Alright, now the part you have been waiting for, (or probably already scrolled too…) our top picks! 
Breaking Down The Top Performing Snowmobile Handlebars by Manufacturer
Cheetah Factory Racing 
Cheetah Factory Racing is likely a brand you already recognize as CFR. CFR got into making snowmobile handlebars back in 2011 when owner Dave Basterrechea got tired of his stock handlebars not being what he wanted them to be. He felt they bent too easily and did not provide him the most ideal hand positioning. CFR has developed a line of snowmobile handlebars that has been tweaked and perfected by professionals such as Brett Turcotte, Chris Brown, and Andrew Munster. This brand prides themselves highly on product quality and durability. 
The Best Cheetah Factory Racing Handlebars
Boondocker 2.0
This snowmobile handlebar is meant to do it all. It is the perfect boondocking, hill climbing, jump and tandeming handlebar. It has a 10 degree forward bend which helps keep your hands more comfortable towards the ends of the bars. It also has a 38 degree angulation on the ends of the bars making it less likely that your hands will slip off. This handlebar is one of CFR's most popular choices and will cost you $130 US dollars.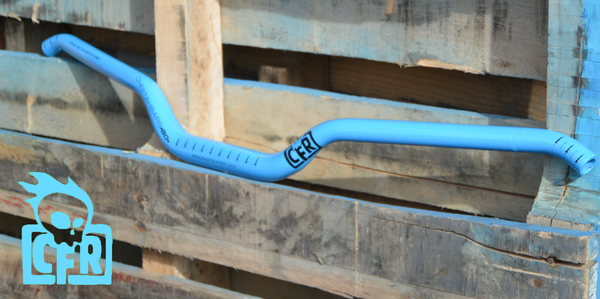 Turcotte Handlebar
Chances are high you know Brett Turcotte, if not this guy is an absolute animal on a sled. This snowmobile handlebar was made specifically for Brett and his evolving riding styles. With that said this bar does tend to change each year. The current specs of this bar include a 1 inch rise, 30 inch total width, 5 degree up, and a 12 degree pull back. This bar is 1 ⅛ inch thick in the middle and ⅞ inch thick on the ends. This gives it more strength. If you're looking to flick your sled around in the air like Brett does, this may be the bar for you. This bar also costs $130 US dollars. 
Crowbar
This snowmobile handlebar is a pretty standard bar good for boondocking, ditch banging, or watercross. Specs on this bar include 1" rise, 4.5 degree up, 14 degree back, and 37 degree with 10 degree bar ends. This bar is a non-oversized bar, meaning it is ⅞ inch diameter from end to end. No need to get bar adapters or a different riser with this snowmobile handlebar. The Crowbar will mount onto your stock riser. This bar will cost you $110 US dollars. 
Brown Handlebar
Being Chris Brown rides Polaris and has for so long, this snowmobile handlebar is made specifically for polaris sleds that use the factory ProTaper handlebars. This bar is non-oversized, has a 5 inch rise, 28.5 inch total width, 11 degree pull back and 6 degree up. Being this bar is so similar to the Polaris stock bar it will handle and feel very similar to that. We highly recommend this bar if you are looking for durability and a new look for your sleds handlebars. This bar costs $130 US dollars. 
SX Handlebar
This handlebar is CFR's first Snowbike handlebar. Tested and approved by Cory Derpak and the MAG Silver Star Team. These v=bars are proven to be lighter and much stronger than stock bars. They are oversized at the clamp which gives them more strength. Being we wrote this article to talk about snowmobile handlebars, we will not talk any further details on these bars as they are meant for snowbikes specifically. This bar costs $184 US dollars.
Munster Handlebar
Last, but not least the Munster bar. This snowmobile handlebar was designed for backcountry junkies like Andrew Munster. This bar features a 29 inch width, 1 inch rise, 5 degree up, 14 degree pull back, and a 10 degree forward bend on the hooks positioning. It is an oversized bar in the center giving it more strength than other bars. If you are looking for a strong bar that is going to allow you to toss your sled around this might be the right choice for you. This bar will cost you $128 US dollars. 
All of CFR's snowmobile handlebars come with a bar pad and are available in an array of different colors. Depending on which bar you go with you may need adapters and different risers to making mounting the bar on your sled possible. We highly recommend checking out Cheetah Factory Racing's website prior to purchasing their products to ensure you have what you need. 
The Best Snowmobile Handlebars from RSI (Race Shop Inc.)
Race Shop Inc., more commonly known as RSI has been a leader in the off-road vehicle industry for years! They have a wide variety of products and are trusted by many riders and industry professionals. As they are aware the industry is an ever changing one, they have set out to continuously develop and offer evolving and innovative products at an affordable price. Today we will obviously be taking a look at their snowmobile handlebars!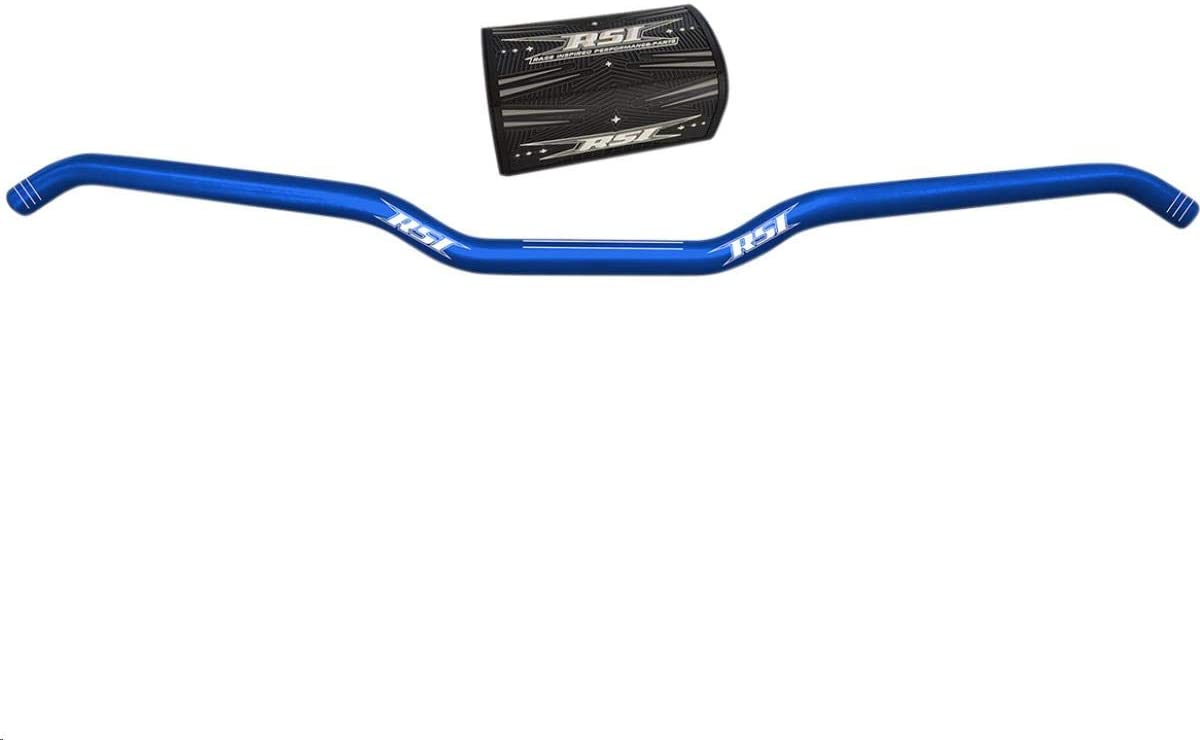 RSI Hustler Handlebar
The RSI hustler handlebar is one of the top aftermarket snowmobile handlebars this year.
Check Price on Amazon
At no additional cost to you, we may earn a commission if you make a purchase.
Boondoggler Tapered Handlebar
The Boondoggler snowmobile handlebars come in either a 2 inch or 7 inch rise. Depending on how high you like your bars, choose wisely. If you have longer arms you likely do not want or need higher bars. Other factors to consider when considering this is how tall your bar riser is on your sled if you have one or if you will need one.
The 2 inch rise Boondoggler is an oversized bar so you will need adapters for this bar, but the 7 inch rise Boondoggler is a normal sized bar and no adapters are needed. Both bars are 30.5" wide and they each have a price tag of $95 US dollars on them. A little more affordable than the CFR bars we previously talked about. 
Hustler Handlebar 
This one is for all you hustlers out there. This is a lower profile 1 inch rise non-oversized bar. It is 30 inches wide and has a 10 degree sweep. This bar also features pre-bent hooks on each end of the bar for reduced chance of your hands slipping off. If you are looking for a sturdy bar that is ready to take some abuse this might be the snowmobile handlebar for you.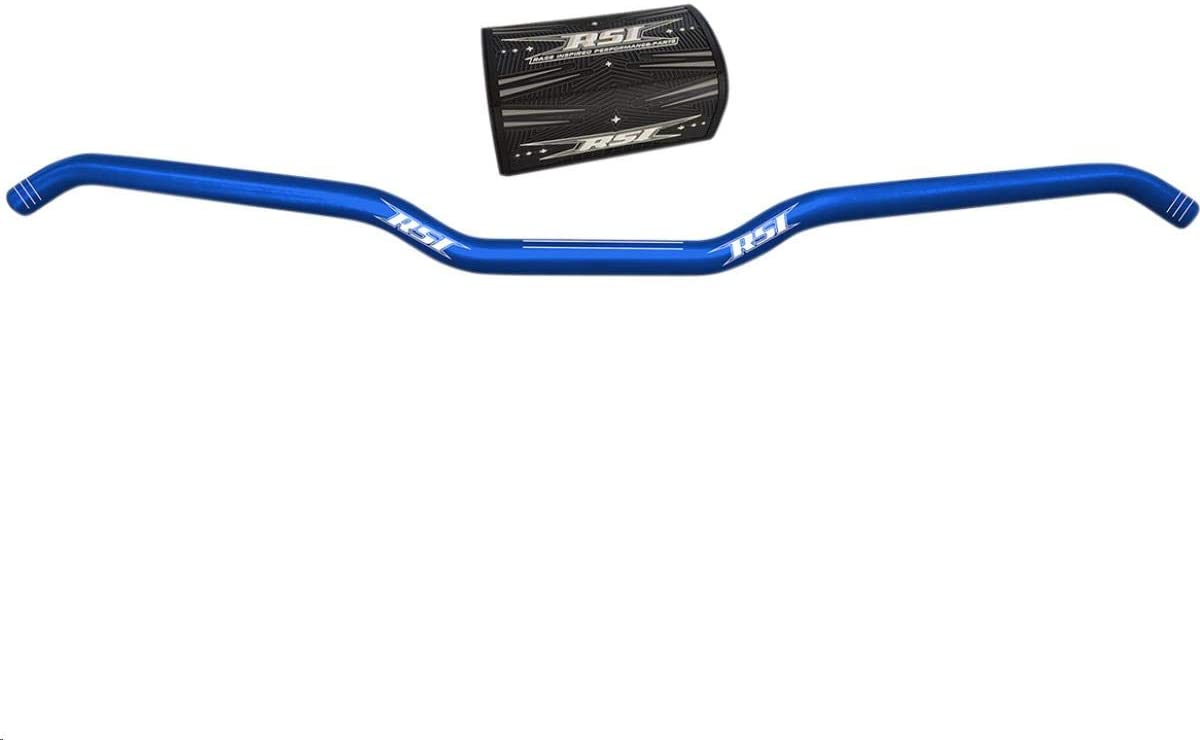 RSI Hustler Handlebar
The RSI hustler handlebar is one of the top aftermarket snowmobile handlebars this year.
Check Price on Amazon
At no additional cost to you, we may earn a commission if you make a purchase.
Backcountry Bend 
Are you looking for the perfect snowmobile handlebar to use in the backcountry that allows you to customize the width to your liking? Maybe the backcountry bend is for you. This bar does not have pre-bent ends allowing you to cut the bar to whatever width you are most comfortable with. The backcountry bend gets its name from its flexibility which reduces rider fatigue and arm pump. Stay comfortable on the snow all day. Save your arms for hugging your someone special when you return back to the lodge. This bar has a 3 inch rise and is oversized at the clamp, so do not forget your adapters. This bar sells for $90 US dollars. 
Race Bend 
The name says it all. If you are into racing snowmobiles then this is the snowmobile handlebar you are going to want. It is a straight oversized handlebar. It is strong and ready to go. There really is not a whole lot to say about this bar besides that it is functional. You would not want to use this for backcountry riding, ditch banging, hill climbing, etc. This bar is meant for the drag strip and that is where you will find it. This bar also costs $90 US dollars. By the way, this bar is also customizable as far as how wide you want it. 
Other Snowmobile Handlebars RSI Offers 
10 Degree Straight Tapered
13 Degree Straight Tapered
Chromoly 10 Degree Straight Handlebar
Chromoly 13 Degree Straight Handlebar
Chromoly 16 Degree Straight Handlebar
Chromoly Race Handlebar
Chromoly Handlebar 2 inch rise
Chromoly Handlebar 4 inch rise
As you have already noticed, RSI offers a wide variety of bars. Their color offerings are fewer than those of CFR's. All bars come with a bar pad, but some may require adapters or certain risers. Look at their websites before purchasing to ensure you are getting everything you need. RSI may be a good option for you if you are looking for nice snowmobile handlebars, but you are also hoping to save a little money. 
Best Skinz Snowmobile Handlebars 
Skinz Protective Gear is located in Glendale, Arizona. They have been a manufacturer of various parts and accessories. If you are big into snowmobiling you have likely seen their helium products most commonly seen on mountain sleds. These are highly desired parts in an effort to reduce machine weight. Today we will briefly discuss the snowmobile handlebars they offer and why they may be a good option for yourself. 
Skinz has not put a lot of time into their handlebar options as they only have five at the moment. This comes as no surprise as this is not their preferred or most popular product. In fact, we do not actually know anyone currently running these bars. This is not to say they are anything less than the previous brands mentioned, they are just not as prevalent in the industry. 
Skinz offers titanium non-oversized performance snowmobile handlebars. They have a Polaris tall and short model, a flat bar, a 2 inch rise bar, and a Ski-doo XM bar that was made specifically for Tony Jenkins. These snowmobile handlebars range from $200-$280 US dollars. The lightweight and strength of the titanium they use is not their only benefit. The titanium also allows handlebar heaters to be much more effective. 
The lack of options, customizability, and higher prices make Skinz snowmobile handlebars one of our last options. We highly recommend Skinz as a brand and company, but would likely recommend one of the previous brands handlebars over Skinz if you choose to stray from the stock bars. This comes from no other basis than the price, lack of options, and no customizability.  
The Best Stock (OEM) Snowmobile Handlebars
You may be wondering why we even included stock handlebars in this article. Well the truth of the matter is that the companies spending millions of dollars on developing their snowmobiles are not ignoring the importance of having a good way to steer the machine. Snowmobile handlebars manufactured and used by the world's leading off-road companies are designed specifically for their machines and are believed to be the best option for their products by the engineering teams that created them.
There are a lot of riders that choose to stay stock with most components on their sleds and a lot of them happen to be some of the best riders out there. If you choose to ride stock we one hundred percent respect that decision, in fact we still ride stock snowmobile handlebars and have no issues with them whatsoever! 
What Snowmobile Handlebars Are Best For You?
As stated earlier in this article, we find it very important to find the right snowmobile handlebar that fits you as a rider and your riding style. Ultimately the most important thing to keep in mind is your comfortability. It is important that you do not become too fatigued on the snow.
As silly as it may sound, switching up your snowmobile handlebars could increase your stamina, comfortability, and time on the snow. Now with that said we are scientists out here saying we have confirmed or approved anything, but from our experiences having the correct setup has made a world of difference and has made the sport even more enjoyable for us than it already was. 
The best way to find out what height snowmobile handlebars are best for you would be to go into your local dealer and sit and stand on some sleds. Ask one of the sales people if they can show you the different risers and bars. Figure out what feels best for you and you will never regret it!