When it comes to snowmobiles, even the biggest wheelie heros know you need skis. Here at Sledheadzzz we choose to use C&A Pro Skis. With that said there are a lot of options out there and some brands focus on specific riding styles, but C&A Pro Skis seems to have all the bases covered. This is perfect for us as we thoroughly enjoy hitting the hard packed trails in Northern Minnesota and shredding the fresh powder in the Rockies. Today we will be taking a look at the BX Mountain Ski!  
C&A Pro Skis: Best Mountain Ski in 2020 
When you hear "C&A Pro Skis", it is very likely you start thinking about snocross. Being named the official ski of the ISOC Series, C&A has definitely established a dominating presence in the race world. What many may not know is that they also make a phenomenal mountain ski for the guys and girls out there that enjoy riding the hillsides full of deep powder. Their proven quality in the XT model ski used in snocross carries over to all of their skis including the BX model, which is the mountain ski we use on our 2016 Polaris Pro RMK and will be further discussing the remainder of this article.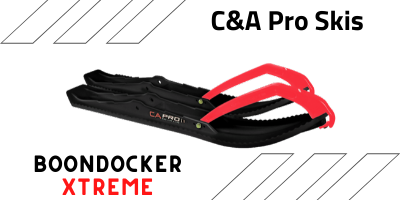 BX Mountain Ski Features  
BX is short for "Boondocking Xtreme." This ski is built for technical tree riding and deep powder.  Let's waste no time and get straight to the details on this ski!
Center Keel– increasing your navigability through the trees. This is also were your carbides, which will likely be round bars, get inserted  
Snow Scoops– helping you stay planted on off-camber hills 
Wide Platform– providing you plenty of float for staying on top of that fresh powder and also a place to stand when trying to stay on top of the snow, need you get off your machine 
Tapered Rear– also referred to as a dove tail, this feature allows you to hold a better side hill 
Kick-Up On Rear– allows you to take full advantage of reverse when loading or unloading your sled 
Integrated Traction Grooves– along the outside edges of the ski and the saddle you will find these traction grooves giving you a firm footing when you get off your sled in deep snow 
Adjustable Handle/Tip– the 3 hole adjustability of the handle, sometimes referred to as ski loop, allows you to raise or lower  the front of the ski by up to 2 inches. This is useful for when you get into deep powder and want to push as much snow under the ski as possible 
Durable– these skis are strong! The plastic used to make these skis is one that is meant to withstand the abuse you have in store for it
BX Mountain Ski Specifications 
7 1/4″ wide profile (tapered)

42″ long

1.125″ center keel height

90 degree center keel

ISR approved handle

Total ski weight is 7 lbs. (including handle)

Made from UHMW Poly for ultimate durability
Our Thoughts on The BX C&A Pro Ski 
From the moment we took the BX skis out of the box we could tell they were well made. These skis are durable, well designed, and provide excellent functionality. Not only that, but they look good too. We are very satisfied with the products C&A Pro Skis provides. 
As stated earlier, we have been around these products in the snocross world and if you know anything about snocross you know that those sleds and everything on them take an absolute beating. There is a reason the C&A Pro Skis are the official ski of the ISOC Series and several others. These skis are built to last in this extreme sport. Everyone uses them because they trust them. Simple as that! 
VIDEO REVIEW COMING SOON!!!
Other C&A Pro Skis 
As we said earlier, C&A Pro Skis has a ski to offer every style of rider. See below a list of the other skis they offer and find the one that fits your riding style! 
XPT "Xtreme Performance Trail" Ski– for 2012 and newer trail sleds 
RZ "Razor" Ski– for 2011 and older trail sleds
XCS "Xtreme Crossover" Ski– for the aggressive crossover rider 
MTX "Mountain Xtreme" Ski– for 4-stroke and utility applications 
XT "Xtreme Terrain" Ski– best for snocross racing 
Mini Ski– for 120cc/200cc and watercross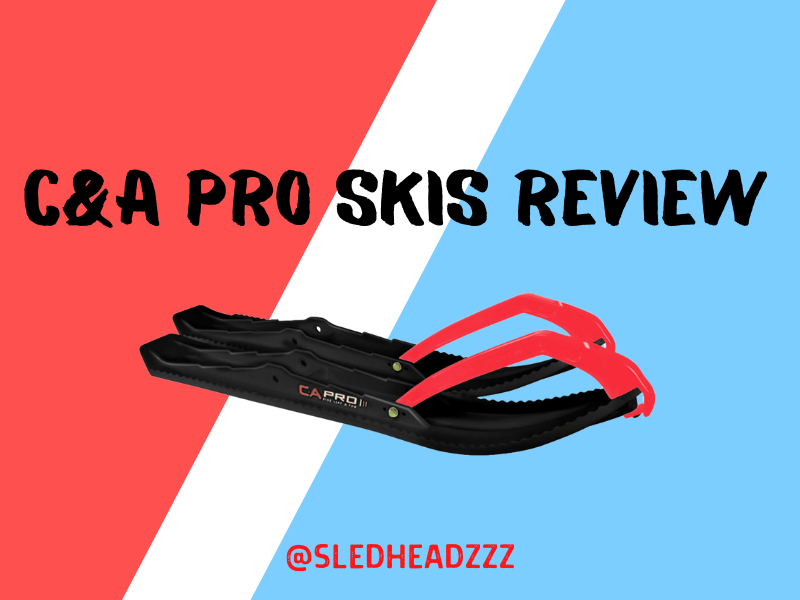 Related: Slydog Skis Review