Patrick Custom Carbon Review
If you are looking for a way to increase the performance of your snowmobile there are many options when it comes to aftermarket parts. They all have something to offer, but some are less effective than others. Spending your money wisely when modifying your snowmobile allows you to get the most for your money and make as many beneficial modifications to your snowmobile as possible while on a budget. Today we talk about how a carbon fiber clutch cover could increase your snowmobile's performance, especially when paired with a complete lightening and balancing of both your primary and secondary clutches. Before we get into it we would like to introduce you to TJ Patrick at Patrick Custom Carbon. The man behind the madness. Let's get to it! 
Who is TJ Patrick?
From Snowmobiles to Indy Cars TJ Patrick has been involved in the racing community for over 38 years. In the beginning of those years TJ spent a lot of his time racing ice ovals onboard Polaris Snowmobiles. Throughout his impressive racing career TJ has built and redesigned many high performing machines. You may recognize his name, but for another reason other than his own impressive racing career. One could say his passion for racing was inherited by his daughter, Danica Patrick, if you are not already aware, a former NASCAR driver and now Entrepreneur. 
Being so involved in the racing community, TJ spent a lot of time thinking about carbon fiber and why it is used in practically all racing venues across the world. He realized that it had not yet been introduced in the snowmobiling industry and that is when he opened up the doors of Patrick Custom Carbon, a shop centered around creating high end carbon fiber performance parts for snowmobiles. They now produce parts for UTVs as well. 
What is a Carbon Fiber Clutch Cover? 
A carbon fiber clutch cover is a lightweight primary clutch cover that replaces the stock primary clutch cover. It is lighter and also stronger than the stock primary clutch cover that is currently on your snowmobile. They also look much cooler! They are made to bolt on just as your stock clutch cover does making switching to a carbon fiber clutch cover a simple process. 
TJ Patrick designed these carbon fiber clutch covers to strengthen and protect your primary clutch. The carbon clutch cover's edges wrap around the spider towers of the primary clutch increasing the spider towers strength and reducing the risk of them cracking. This alone is a huge benefit to running a carbon fiber clutch cover from Patrick Custom Carbon. 
Benefits of Clutch Lightening and Balancing 
We all know the lighter your snowmobile weighs the easier it is to maneuver it allowing you to stay on the snow longer and also increases your abilities as a rider. By sending your clutches to Patrick Custom Carbon you lose 2 pounds of spinning weight and also get back a higher performing, much better balanced setup. This modification allows your snowmobile to get to higher rpms faster and stay there. You might be thinking, "do I have to run different clutch weights for different elevations now?". The answer is no! You use your clutches exactly as you would have before you sent them to Patrick Custom Carbon. 
If you are not interested in doing a full lighten and balance on your clutches you can still lose 1 pound of spinning weight by replacing your current primary clutch cover with a carbon fiber clutch cover from Patrick Custom Carbon. Not only does this carbon clutch cover reduce the weight of your snowmobile, it also adds increased strength and durability to your primary clutch as the edges of it wrap around the spider towers. It looks amazing as well!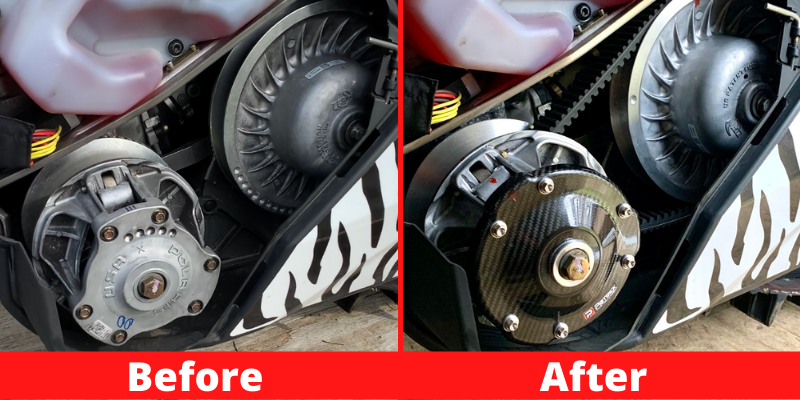 Why you should send your clutches to TJ Patrick:
Increases clutches efficiency 

Belt runs smoother and gets better contact 

Belt and clutch heat stays at a lower temperature 

Acceleration increased 

Gets to higher RPMs quicker

Increased clutch life due to less vibrations

Easier on the crank when grabbing the brake 

Less inertia to stop
Our First Impression 
We took our primary and secondary clutches off and sent them to Patrick Custom Carbon exactly how they came off. TJ turned them around for us in less than a week and sent them back looking better and lighter than ever. He did a full service on our clutches which included a lighten and balance on both clutches as well as replacing the primary clutch cover with his carbon fiber clutch cover with titanium bolts. We took the clutches out of the box and immediately started drooling. We understand this modification is more performance driven, but the carbon fiber clutch cover with the titanium bolts just makes the primary clutch look so much cooler. 
Once we put the clutches back on and fired up the snowmobile we could immediately notice a difference in the time it took to get to higher rpms. Although we have not been able yet to test the clutches on the snow, we did notice when trailering the snowmobile it was more responsive and operated very smoothly. 
On Snow Review
The third weekend of December we made it to Seeley Lake, Montana for our first ride of the season. We were beyond stoke as they just got hammered with snow and we could not wait to try out our Patrick Custom Carbon Clutches. To make a long story short, they treated us real good!
One of the biggest differences we noticed was the reduction of vibration. The lightening and balancing TJ did to our Primary and Secondary Clutches really made the snowmobile run smoothly with less vibration than the stock clutch setup. Another benefit to having TJ work his magic was the belt heat consistency. With the clutches balanced as best as they could be the belt stayed at a cooler temperature more consistently. In the long run this is going to increase the life span of our belts and ultimately save us money as we all know belts are not cheap.
The differences from Stock Clutches to Patrick Custom Carbon Clutches are not obvious if you are testing side by side in a drag race style test. We did not notice one or the other being faster off the start than the other. However throughout the day when we were exploring the steep and deep powder the Patrick Custom Carbon Clutch setup became a group favorite due to its increased responsiveness and smooth operation. There were no hesitations, the snowmobile was always ready for the next move!
We will be doing more on snow reviewing early February when we are riding Island Park, Idaho. If you see us out there flag us down and check out our Patrick Custom Carbon Clutches! To learn more about what Patrick Custom Carbon has to offer, visit their Instagram page @patrickcustomcarbon to hear from TJ himself or visit their website at www.patrickcustomcarbon.com