The sled you have likely seen all over our pages, referred to as the "Tundra Tiger", a 2016 Polaris Pro RMK, is the first official Sledheadzzz snow pony. We are writing this article to tell you about our sled and the mods we have made to it. We would love to hear your feedback and see your sleds!
The Tundra Tiger: Polaris Pro RMK 155″
Like everyone else, we like to make the sleds we ride unique. Setting your sled apart from the rest is the best way to make it your own or be recognized by other riders. Being this was the first sled in the Sledheadzzz fleet, we kept our mods to a minimum. We kept it simple, but didn't hold back on uniqueness as you likely already realized. We chose the Polaris Pro RMK, because we grew up on Polaris and we really like the rigid chassis.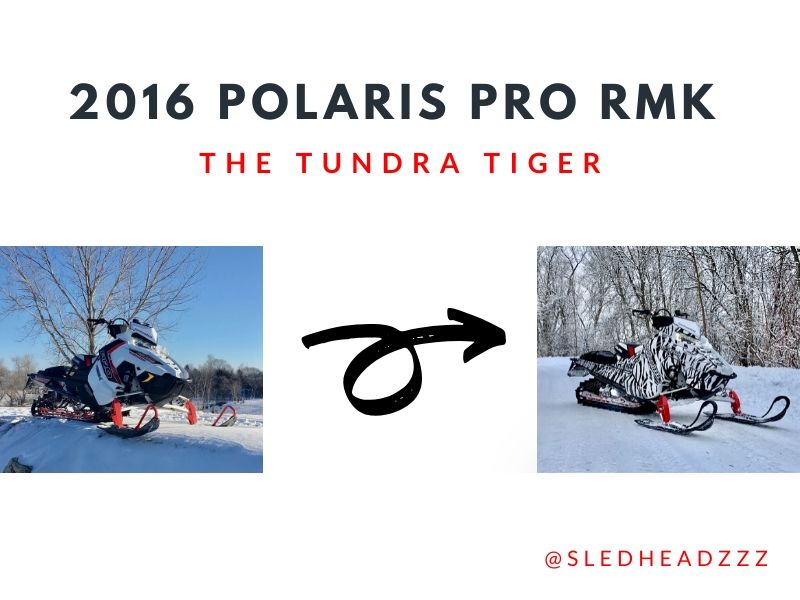 Polaris Pro RMK Mods
Before we get started we would like to start by saying that regardless of your opinion any change to your sled is a modification. We have seen several people posting comments on social media saying this or that isn't a mod, blah blah blah. If you change something you modified it.
1) Deviant Ink Sled Wrap
The most obvious change. The addition of the sled wrap gave our sled one of the most unique looks a snowmobile has ever seen. We can pretty much guarantee that you haven't seen a sled like this. We knew as soon as we got the sled that it needed to be recognizable. Most of you reading this recognized the sled before you saw this article. The rest of you may be seeing it for the first time and you will likely never forget it.
Related: Deviant Ink Sled Wrap Review  
2) GGB Exhaust
Giving the Tundra Tiger a voice of its own was a must. If you rock stock we respect it, but we prefer a good sounding exhaust. There's something irresistible about a good sounding sled. The low gurgle when idling to the aggressive growl when you open the throttle makes riding that much more enjoyable. We currently run the GGB Trail Can on the Tundra Tiger. We highly recommend GGB Exhaust if you are looking to get your sled a new can.
3) Slydog Skis
Another pretty obvious mod to our sled is the Slydog Skis. We went with the 8″ Powder Hound skis in black and whiyte with the swirl pattern. This mod was just another way to complete the Tundra Tiger's unique look. The customization ability of these skis is super cool. With all this said the Polaris stock skis are actually pretty good. Actually they are desired by some riders. We even know of a few Skidoo riders that prefer Polaris stock skis. Anyways, these skis are a good way to complete the look of your sled.
4) South Simcoe Pull Cord handle
This mod is definitely not at the top of the priority list, but its cheap and is the cherry on top when it comes to customizing your sled. Custom engraving on the anodized pull cord handle allows you to get as detailed as you'd like with your sleds look. We kept it simple with "Sleheadzzz" engraved on the top of the handle and a cross engraved were the rope connects to the handle. Customize your pull cord handle!