We realize it's not Monday… but it sounds good and we all enjoy good sled mods. What's even better is when it's yours! This series of articles is dedicated to the baddest mods on the mountain.
Monday Sled Mods
We take you for a full walkthrough of the featured sled, telling you mods have been done. We also provide you with a video walkthrough so you can actually see it. Not only that, but we provide a list of the mods that have been done with links to the products so you can do the mods to your own sled!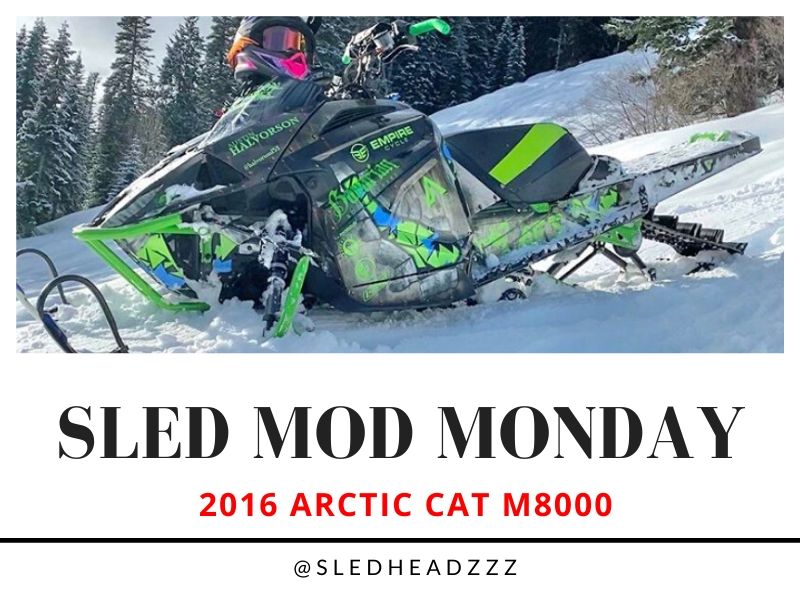 Meet The Rider: Austin Halvorson
From before I could walk, I was on sleds. My parents had a harness that they wore that had buckles on it and I wore a harness that clicked into theirs so when they were riding they still had use of both hands and I just hung there and I could sleep if I got tired and they could keep riding. Riding has been a big part of my life and many would say its what my life revolves around, I'd have to agree!
I started out riding a 1972 kitty kat. I soon out grew that and my parents bought me a arctic cat 120. I rode all the time and every opportunity that I had to ride I was on the snow. I soon learned that I loved jumping and that poor sled was put through the ringer. I would jump our big plow berms from my dad plowing the driveway.
My dad would weld the little a arm together to make them stronger and id still break those I went through countless shocks. And a few pairs of skis. Once I outgrew that sled my dad bought me a Polaris Indy lite 340. That sled had its fair share of jumping as well. That Polaris was my only non-Arctic Cat sled.
I then upgraded to a 2005 M5. This was a 500 liquid with a 141 track this was a great sled but I quickly out grew it in size and riding ability. At the time I was in love with the legendary M7. I remember my first time on the sled and I gave it a short run at full throttle and it scared me. I was worried I had got a sled too big for me. I soon adjusted to the power of this sled and learned how to ride it. I rode this sled for 4 years to the point where I would ride on the weekends and be working on it during the week.
My dad bought an early release 2018 cat so I got his old 2010 M8 snopro and this was my first experience with a 153 and I fell in love. I learned how fun a shorter track is and how it pushes me more than a 162. This sled after I got done riding it had 5,200 miles on it and had never had a top end done or the bottom end opened up. That thing ran so strong and never failed to amaze me.
The Sled: 2016 Arctic Cat M8000 153″
The sled we are featuring today is a 2016 Arctic Cat M8000 owned by Austin Halvorson. Lets jump into some quick details to give you a taste of what sled mods have been done to this thing.
This year I picked up my 2016 m8000 153 limited from Scott Eyer. The sled came with the name cuddles and it stuck. He bought cuddles brand new and cuddles was the sled that took him to the level he is riding at today.
When he heard what my goals are and I guess you could say my morals as far as maintenance on my sleds he was happy cause he knew she wouldn't be abused. He did all the work to it and all the updates. I have always chosen Arctic cat because I'm very familiar with them and they have always worked for me. I'm definitely hyped to ride this season and see the content that I can get with my new steed!
Sled Mods
Isled rear bumper

BDX prolite running boards
BDX 2018 cat plastics conversion kit
BDX headlight delete
BDX prolite front bumper
Send us a message if you want us to feature your sled mods!
Related: Sledheadzzz Tundra Tiger