When snowmobiling it is important to stay warm and dry. Being wet and cold makes the snowmobiling experience so much less enjoyable and can also put you in severe risk. Investing in quality gear, such as a monosuit, could potentially save your life. That alone is enough of a reason to spend the money on it.
When we go sledding we want to enjoy every minute we can. We all know the days of snow are limited, so we must make the most of each day on the mountain or trail. Now that we are on the same page, let's discuss the Tobe Novo V3 Monosuit and why it could be a good option for you and your crew. Let's begin!
Tobe Novo V3 Monosuit Review 
The snowmobiling community is one that takes their sport seriously. They count down the days until the first snowfall. They spend countless hours preparing their machines. Some even work seasonal jobs so they can take all winter off just to enjoy the sport of snowmobiling.
When it comes to the gear they use, they are typically willing to pay for the best. They realize the sport they enjoy is one that needs to be respected. There are no guarantees of their return when they leave in the morning. Snowmobiling may be one of the world's most extreme sports. A large decider of this, of course, is mother nature. 
Being mother nature plays such a huge role in whether or not a day on the snow is enjoyable or not, some will say there is never a bad day on snow, we must be prepared for the worst. Have you ever been out riding and the temps drop more than you expected? Or got wet early in the day and your gear will not dry out? We have!
These situations have turned a good day to a not so enjoyable day real fast. That is why we now make our gear a top priority. We will not head into the backcountry without quality gear that will keep us warm and dry. We believe the Tobe Novo V3 Monosuit may be one of the best options on the market. 
Novo V3 Monosuit Features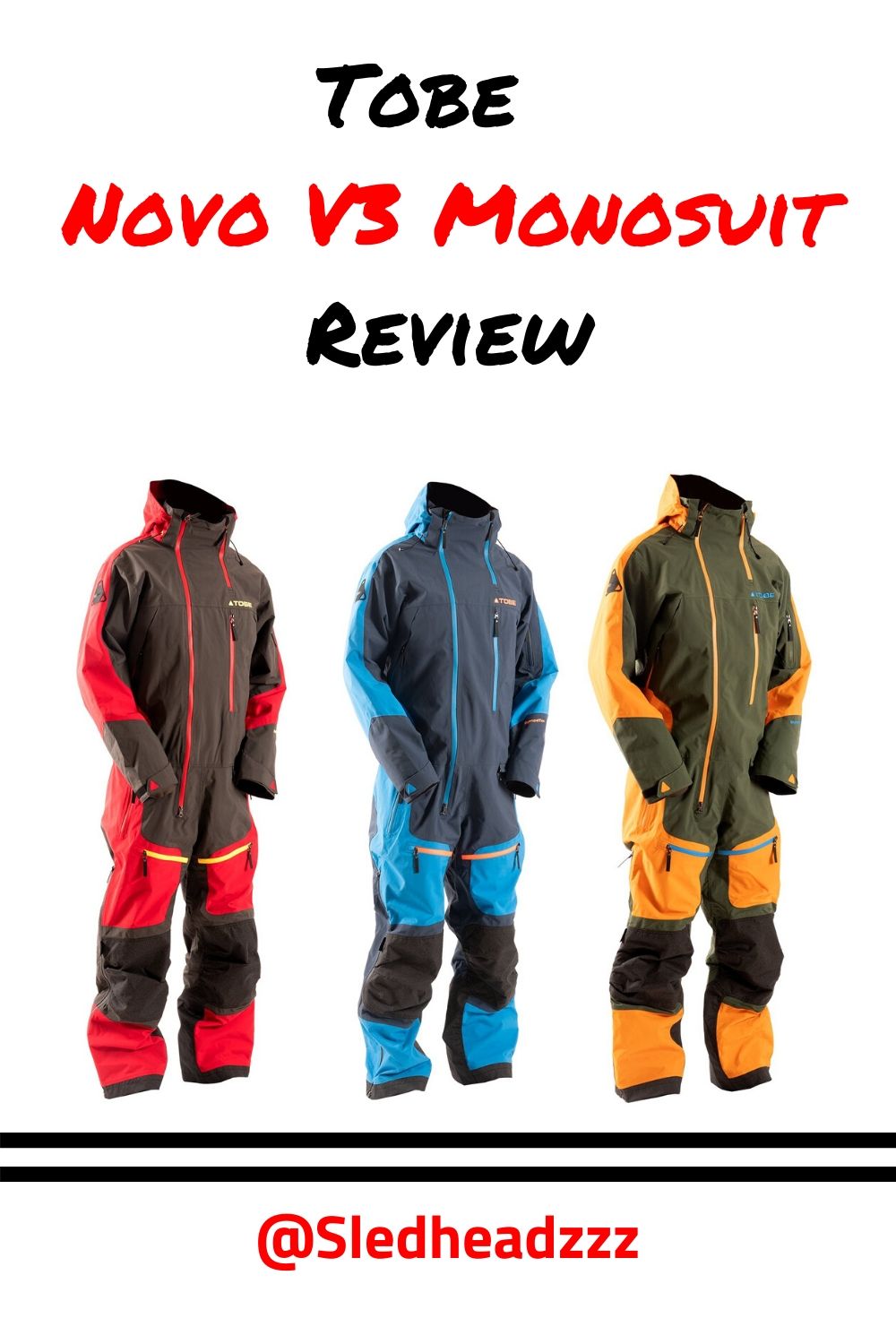 Removable hood

– this is a total preference feature. We tend to prefer no hood as we are wearing a helmet anyways a sometimes a hood can get in the way rather than be useful. When not wearing a helmet and just hanging around the lodge, we like the option to have a hood.

Full leg zips– this feature is awesome! We all have been in a situation where we could really use some air between our legs. Having the ability to zip open the legs on this Tobe monosuit not only allows you to put your boots on with ease, but also gives you the option to let your legs get some air after you just got done digging your sled out of the trench you dug.
Available in a shell and insulated version– if you have other gear you like wearing, such as a really good base layer you may choose to purchase the shell version of this monosuit. On the other hand you may want the extra warmth and therefore choose the insulated monosuit.
Lifetime warranty of the product against manufacturer and material defects

– need we say more? Tobe has high confidence in the quality and reliability of their products. These are top of the line monosuits that do what they say.

Designed to accommodate protective equipment

– are you hardcore? Do you send it? These monosuits have taken into account if you wear protective equipment such as chest protection and knee braces. If not they suggest ordering a size smaller.

100% windproof and waterproof– as you have already realized, we have stressed the importance of staying warm and dry while snowmobiling. This monosuit is completely windproof and waterproof, ensuring you do in fact stay warm and dry all day long.
Stylish

– look good, feel good, ride good. That is a saying we live by. Most companies give you two options when it comes to color, black or black. Not Tobe, they have multiple different color combinations as well as black. We all enjoy looking good out on the snow.

Adjustable waist and shoulder braces– comfort was not overlooked. Tobe wants you to be on the snow for as long as you can be. The adjustability of these monosuits allows you to stay comfortable all day long.
Multiple pockets– yep, lots of them. 4 exterior pockets, a functional cell phone pocket, and a goggle pocket can all be utilized on these monosuits.
Vents on chest and thighs

– helping keep you dry, this monosuit features multiple vents throughout the suit in case it is a little warmer out than you planned or if you need to air out from all the stucks you have had during the day.

Heavy duty construction

– composed of the best materials available. Full body Cordura® fabrics, YKK Aquaguard® zippers, Armortex® Kevlar on knees, inner calf, and leg cuff. All held together using reinforced seams and double stitching for durability. 
Why You Should Get A Tobe Novo V3 Monosuit 
We believe this monosuit is worth every penny. Staying warm and dry while out snowmobiling is a must and this suit does it all. We would love to hear how you like your monosuit or if you decided to buy one after reading this. If you are still wondering if the Tobe Novo V3 Monosuit is the right choice for you, check out the video below. 
More Articles: See Our Sled, 5 Easy Sled Mods