Snowmobile Idaho! Many people believe that the best way to enjoy the long awaited winter break or just a cold, long weekend, is to sit and enjoy the warm and cozy feeling by the fire. However, there are some great activities that you, your friends and family can do to enjoy your time together without laying bored on the couch. Whether you're an adrenaline junkie or not; wintery landscapes offer a great opportunity for you to enjoy the fresh air that only the outdoors can give. So, throw a helmet on and plan an amazing time for you and your group in one of the next top 5 places to snowmobile Idaho.
Snowmobile Idaho: The Top 5 Places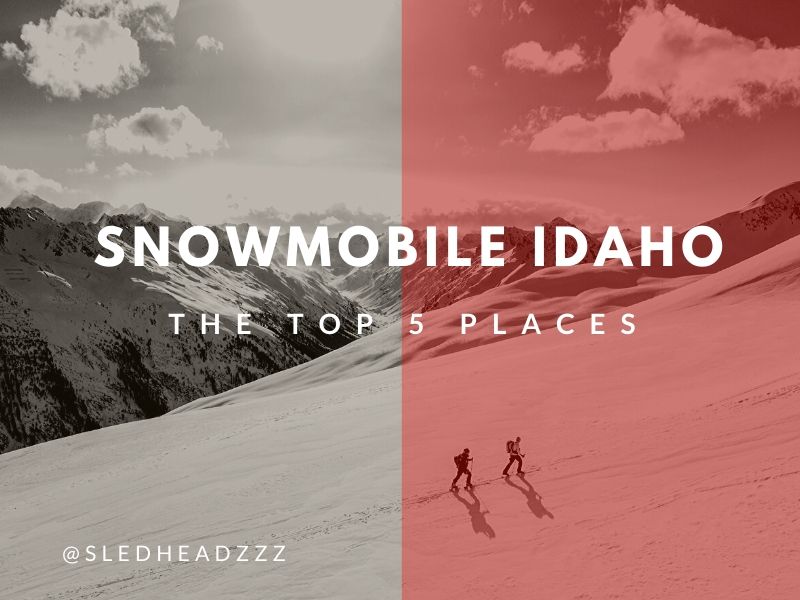 This is your time to enjoy and conquer the snow on a snowmobile. You'll find great opportunities to zip through the woods, enjoy the landscapes, take amazing pictures and create fantastic memories! Surely not everybody in this trip will be crazy about getting on a snowmobile, but the best part is that there are plenty of other activities and things to do or to enjoy while discovering some of the best trails in Idaho without actually riding. So take a look at this list and get ready to plan that trip you were waiting for, or that maybe you didn't even know that you wanted.
1. Burgdorf Hot Springs
If you want to live the experience of riding snowmobile in Idaho, there's no better place than Burgdorf Hot Springs. The cool thing about choosing this location is that you can only access it by snowmobile. This means that, from the moment your trip starts you can join the action. This super rustic resort is pretty close to McCall, where you can rent a snowmobile if you don't own one.
Sure, Burgdorf Hot Springs is not a luxurious place; it basically consists of a stove, some firewood, a mattress and mattress cover; and it's up to you to bring other items such as bedding, a lantern, towels and of course everything you want to eat. But all the modesty of the cabins really makes it up with some breathtaking views of the mountains and mineral hot springs available for all visitors, even if they don't spend the night. If you're the kind of person who's looking for the ultimate camping experience this is just the place for you. If you're looking for a spot so high that the air is extra clean, Burgdorf Hot Springs is the way to go. Snowmobile up to the peak of the mountain and then ski your way down, it'll be an unforgettable experience!
2. Island Park
We couldn't make this list to snowmobile Idaho and not include Island Park in it. With more than 950 miles of open fields, this is the perfect winter retreat for families and groups of friends of all ages who're looking to clear their minds and catch up on some good old snowmobile Idaho. Island Park is known as one of the best groomed snowmobile trail systems in the world, and it also offers a wide range of snowmobile riding styles like boondocking, steep and deep and tree riding.
Everyone in your party will have something to enjoy, with activities such as fishing, camping and breathing fresh air; but at wintertime there's plenty of soft, powdery snow to make snow angels, ski and of course hop on your snowmobile and slide it with ease. Don't be fooled by the popularity of this place, Island Park can be the most peaceful and relaxing spot if you want somewhere to go this winter break, short holiday or just a quick weekend getaway. With miles of well groomed trails, thick backwoods and fresh, chilly air; Island Park is the ultimate snowmobiling experience in Idaho to connect with nature and relax. It doesn't matter if you're taking little kids or traveling with a group of adults, this snowmobile spot is ideal for all groups.
Related: Snowmobile Island Park, ID 
3. Bear Lake Valley
If there is a place you must have in pretty much every list for snowmobiling and not only to snowmobile Idaho it has to be Bear Lake Valley. It has become a very popular and common place for every adrenaline junkie looking to get a fix. This amazing destination offers over 350 miles of well groomed trails waiting for you. With beautiful and breathtaking views and several open spaces for you to ride with no crowds and no fences, going to Bear Lake Valley should definitely be on your top options if you want to go and enjoy the snowmobile at its fullest.
However, beyond powering through miles and miles while enjoying one of the best views you will ever see, there are some other options in case you're planning a trip with some friends or family members that prefer different activities. Bear Lake Valley has a fine range of other attractions, as you can also try tubing or you can go visit one of the several skiing and snowboarding areas for any level of expertise. And in case you're still undecided or really interested you can always go to Bear Lake website, where you can find plenty of information regarding what to see, where to stay or what to do. Plan your trip to Bear Lake Valley and let fresh air fill your lungs.
4. Lolo Pass
The first thing worth mentioning about this destination is that it represents and incredible opportunity for families to enjoy a nice snowmobile ride. However it is important for you to be aware that this specific place is not really recommended for beginners as it may present some challenges that could be a problem for those riders without some experience.
As a location to snowmobile Idaho, Lolo Pass presents itself as an amazing option for you and your family to enjoy your holidays with beautiful rivers and wildlife. It also presents an amazing opportunity for you and your family to stay in a backcountry yurt, which is a type of Mongolian tent that was traditionally used by nomad populations, and now they are suited as a rustic tourist accommodation. The Lolo Pass includes snowmobile trails in both the Lolo and Clearwater National Forests.
Now, as mentioned before this ride is not really ideal for beginners, you must be careful not to run over trees and it's always smart to pack some extra fuel every time. This location will allow you to enjoy a close encounter with the nature all around. You can expect to find a decent amount of wildlife and if you're a fan of photography you will find it as a dream place to go and use your skills through the lense. So, if you're looking for a nice, new place to go, Lolo Pass may be exactly what you're looking for. Just remember that for this trail, Winter Recreation Passes are required and they are available at the Visitor Center.
5. Silver Valley
If you and your group are looking for a place to snowmobile Idaho that covers grounds for every skill level, Silver Valley is the ideal spot. With more than 1,000 miles of winding, expertly groomed trails. These carved terrains make it possible to enjoy the best experience of snowmobile in the area. Silver Valley extends through Mineral, Shoshone and Kootenai counties; where you can enjoy breathtaking mountain top views.
Silver Valley has very accessible and comfortable lodging for all group sizes to accommodate and plan an integrated trip where they can snowmobile right from their front door.  Imagine waking up early, hoping on your snowmobile and sledding freely following the river stream or just enjoying the wildlife and the view of more than 40 frozen alpine lakes. Whether you're just a beginner and you'd like to take an easy ride to do some sightseeing, or you're a total snowmobile pro and you're looking for an exciting and fast ride; Silver Valley has all the fun you want.
Keep in mind that all snowmobiles that transit through this area must be registered with the Idaho Department of Parks and Recreation. You should also take note that every snowmobile must be registered on or before November 1 of each year. You can find more information about it on the Idaho Parks and Recreation website.
We should also suggest that if you're not experienced at snowmobiling or even outdoor experiences; you can hire an outfitter company to plan the whole trip and guide you through the landscapes of Idaho. Also, remember to follow the basic rules of snowmobiling: never ride alone, always wear protective equipment, don't drink under influence and pack up the essential supplies for any emergency or unexpected situation.
Now you know what are the top places to ride your snowmobile Idaho. Get your winter clothes ready, tow your ride and let the sledding adventures through the snow begin!