"When people say Disneyland is the happiest place on Earth, they've clearly never been to Grizzly Lodge" – says one of the satisfied customers about this backcountry gem.
If you haven't heard of Grizzly Lodge before, it's the only snowmobiling lodge of its kind in North America. Miles from crowded day-trip areas and just minutes from its doorstep you'll find backcountry terrain for all levels of mountain riders. Deep subalpine bowls and lakes surrounded by perfectly spaced trees and rolling meadows.
It ticks all the boxes even for the pickiest of the snowmobilers: incredible scenery, wide variety of terrain, amazing snow, and all the amenities you need to unwind after a day of riding.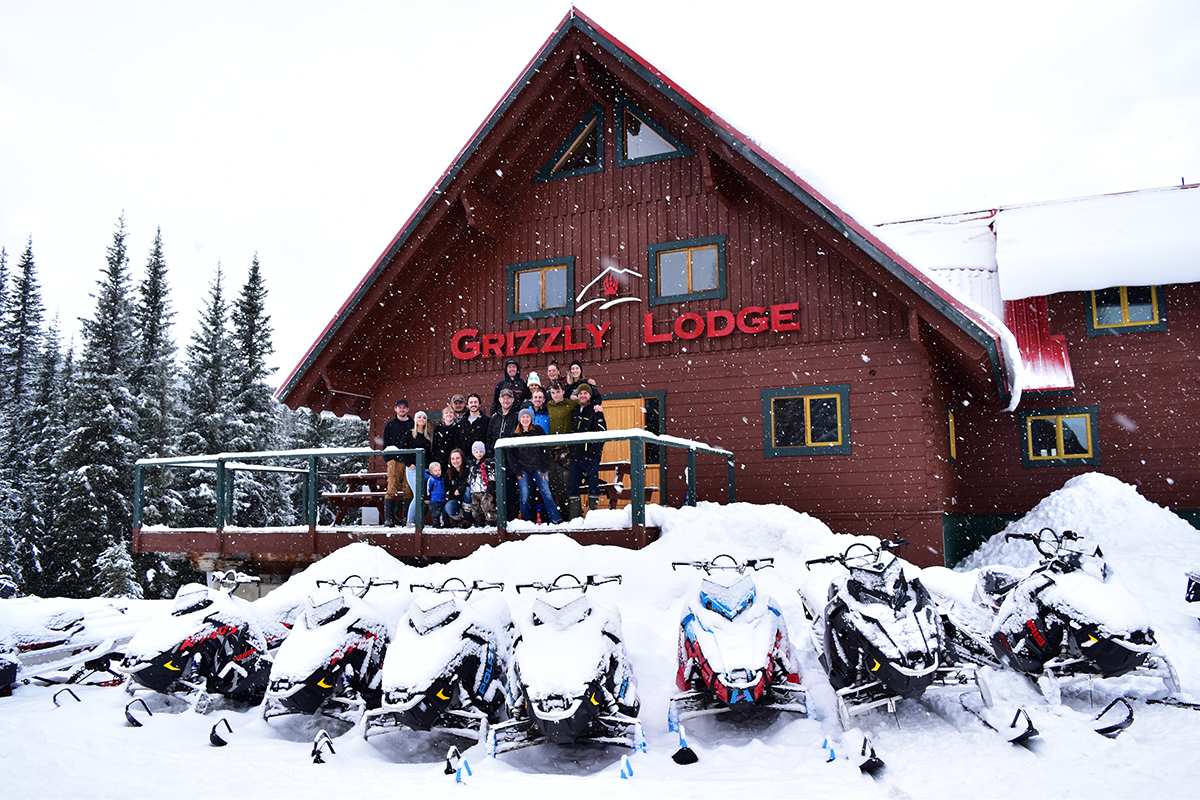 Snowmobile Grizzly Lodge 
Built in 2004, the 12,000 square-foot Grizzly Lodge is located 50 kilometers North from Scotch Creek, BC, deep in the Shuswap backcountry. Snowmobile only access, leaves the riding area pretty much to the 28 guests the lodge can host. But be not afraid – the crew knows how to get you up there quickly and safely. Just a short drive up a logging road to the staging area where you unload your sleds, continue on a groomed trail for a while, and park your sled right outside of the lodge. That's it. Gets even better if you book a Stay and Ride package – they will pick you up right from the airport and deliver you to the lodge. 
Why Grizzly Lodge?
Grizzly Lodge offers all the comforts of home including a hot tub, sauna, full service bar, drying room, comfy beds, pool table, wifi and most importantly—incredible food in the middle of nowhere! Their experienced guides will show you spots you have only dreamt off, and the rental fleet is updated every year to include top of the line snowmobiles to take you there.
For the folks out East, Grizzly Lodge offers Stay and Ride packages. Book your flights and they will do the rest! It includes airport shuttle, meals and accommodation, snowmobile rental (fuel & oil included), avalanche safety gear rental, guiding, riding instructions, and orientation on avalanche safety. 
Awesome Snow Conditions
The terrain surrounding Grizzly Lodge is primarily made up of multiple peaks and rolling ridges reaching to an elevation of 7500 ft. The slopes are covered in perfectly-spaced trees and there are many subalpine lakes and bowls to be discovered. All of this is at your ski-tips in less than 15 minutes after breakfast. 
"The best part is that it's usually just you and your group enjoying the whole zone. In our sport, snow conditions are ever-changing. Over the last 10 years of riding at Grizzly Lodge, I have experienced every snow condition possible. But I have never once been disappointed. If you like deep powder, tight and open tree riding, steep climbs, or wide-open traveling adventures, you can do it all here!" – says Dave Norona, a long-time customer.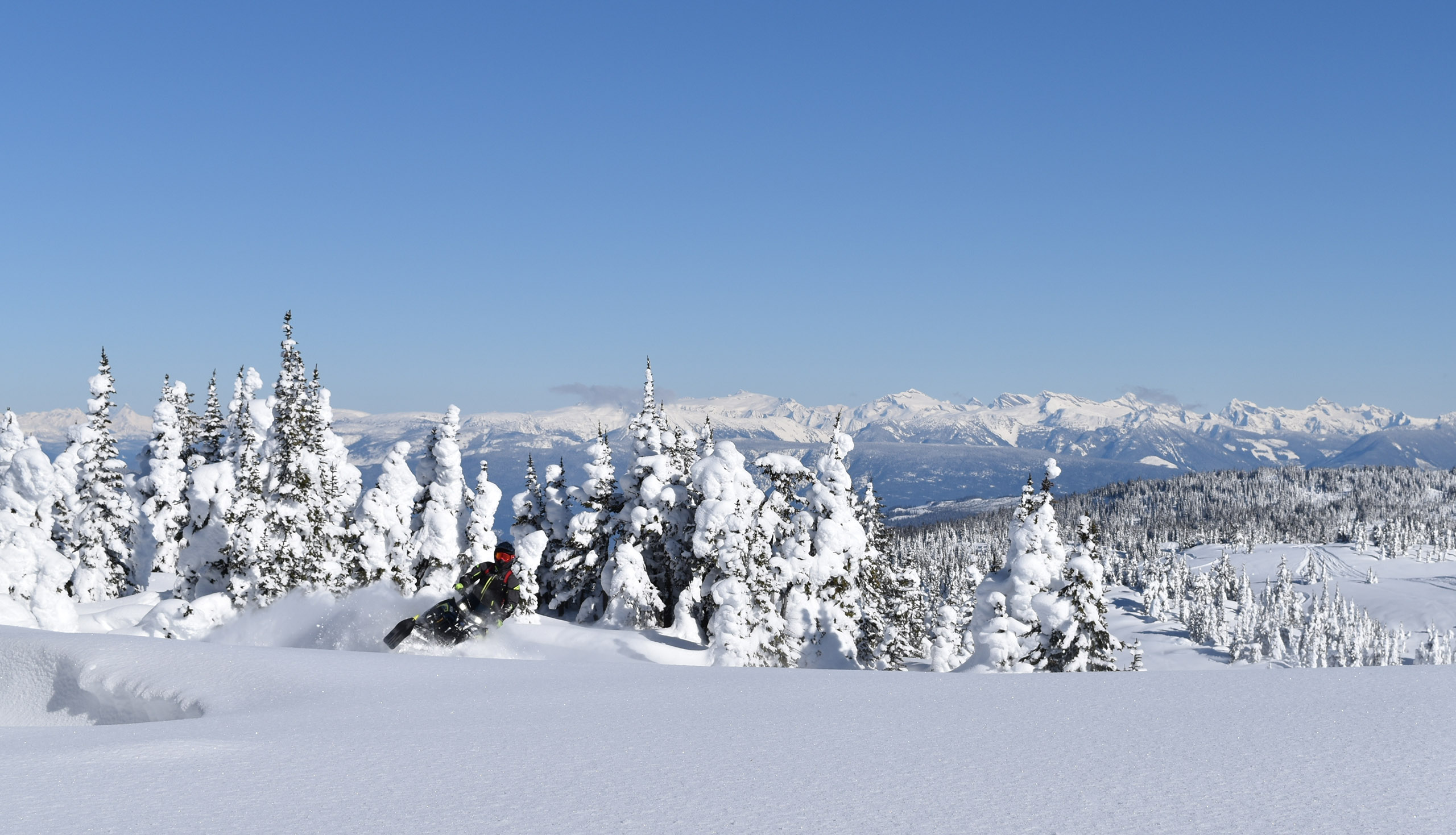 There is no doubt that we should always take Avalanche risk seriously when venturing out into the mountains. However, the terrain at Grizzly Lodge allows for a very safe riding experience when compared to other riding destinations. At Grizzly Lodge, the majority of riding terrain is relatively low risk and you are not going to be riding through areas prone to avalanches very often. If you are looking to venture into more advanced riding areas, the lodge offers all of the mandatory avalanche safety equipment for rent and guiding packages.
Great People 
Grizzly Lodge strives to provide the ultimate backcountry experience. Adam Trainer, the owner, works at the lodge with his family and all staff members are treated as such. When you walk through those doors, you really feel like you are at home. 
"The staff were friendly and welcoming, treating everyone they came in contact with like the good friends they hoped to become." – says Melissa B.
Grizzly Lodge Services 
Ride, Eat, Drink, Spa, Sleep, Repeat.
If you want to make sure your day is going to be epic no matter what the weather brings that day, get a guide! Aside from being the ultimately skilled industry professionals, the guides at Grizzly Lodge are a ton of fun! Check out their Instagram page (@grizzlylodge) to see some of the crazy things they get up to at the lodge. Let them take you into some of the less-accessed areas, show you some tips and trick, and yes, unlimited ski pulls are included. 
Dining at Grizzly Lodge is backcountry at its finest. The Red Seal chefs cook hearty, home-style meals that are sure to satisfy after a long day of snowmobiling. All meals are included with your stay, and you can be sure your dietary restrictions will be catered to. Full Service Bar on site provides tasty refreshments for all.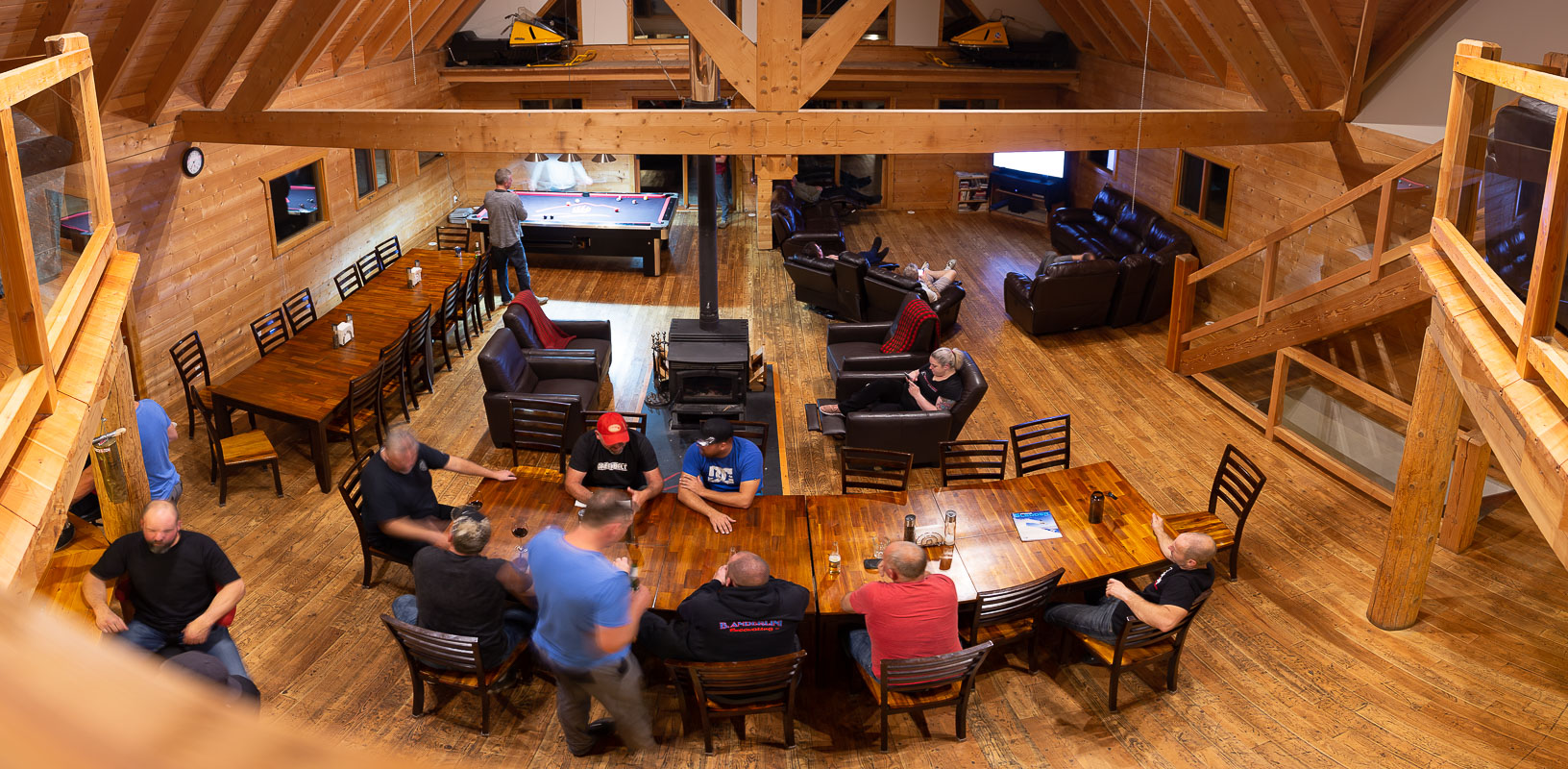 If all the amenities weren't enough already, last summer Grizzly Lodge stepped up their Spa game! In addition to an outdoor commercial hot tub, you can now enjoy a sauna too. Get those sore muscles ready for another day of shredding.
How to Book A Trip to Grizzly Lodge
The season at Grizzly Lodge runs from December to mid-April. At this altitude even during spring months you can get some epic powder days. In fact, Chris Burandt and his crew come to the lodge twice a year to coach – in December, and in April. You can check availability on the Grizzly Lodge's Website or give them a call- 250.554.0247 and chat about what dates could work for you. Alternatively, you can fill out a booking inquiry.
Related: Snowmobile Idaho, Snowmobile Island Park