The Chic Choc mountains of Quebec, arguable has some of the most technical terrains to ride and best snow in Eastern Canada.  When you think mountain riding Quebec is not the first place that jumps to mind, but the Chic Chocs have something to say about that. Let us change your mind! 
Snowmobile The Chic Choc Mountains: A Complete Guide 2020 
The Chic Choc Mountains are located in the Gaspé Peninsula in Quebec, a short 5 hour trip from Quebec City, a small price to pay for bucket list worthy snow conditions. Throughout the remainder of this article we will discuss everything you need to know in order to plan your trip!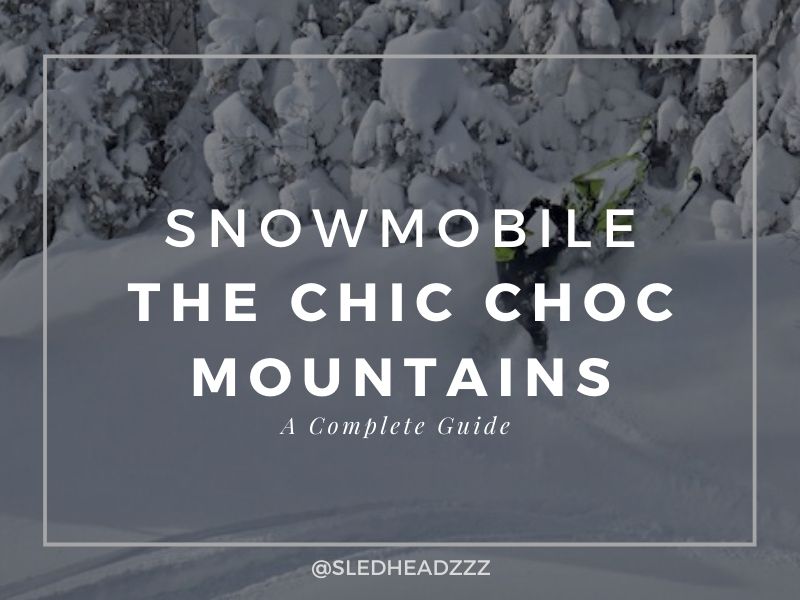 Typical Snow Conditions
Snowmobiling in the Chic chocs typically kicks off late October and can stretch out to the start of May with a staggering average of 7 meters of snow fall per season. (not bad for eastern Canada) Early season riding offers some amazing bottomless powder that puts that endless smile on your face to kick the winter off, although these conditions are a great feeling they do not let you access some of the deepest darkest playgrounds the mountains have to offer.
My personal favorite time of year in the Chic Chocs is February, by this time the snow conditions have set up giving a nice base and allowing you to explore the full potential the area has to offer. The Chic chocs are known for the steep, deep technical endless tree riding.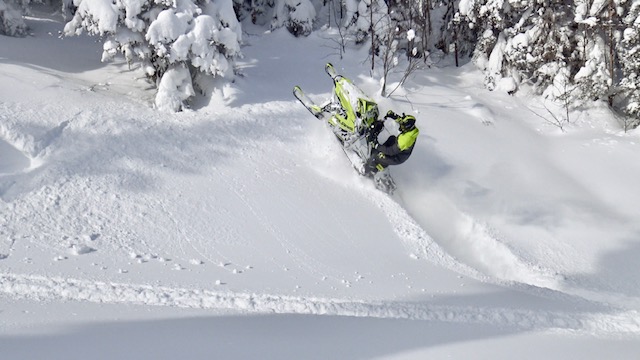 What Makes The Chic Choc Mountains a Good Snowmobiling Destination
The Chic Chocs have now become a staple in the mounting riding community due to the vast variety of terrain. Conditions range from wide open clear cuts, gnarly tree lines, endless creeks and ravines to explore. Mountain riding is not for everyone, Gaspé also offers one of the best trail systems in the world.
Lodging Options
Although the bordering towns are small they do offer some great accommodations. A great place to stay is in the town of Saint Anne Des Mont. They offer up 2 hotel/ motel style accommodations each with their own benefits. Hotel and Cie is a great choice. They offer nice clean cozy rooms with a nice touch of class. All rooms are newer and up to date and they offer the option of indoor/outdoor access so you can park your sled right at your hotel room door. The rooms also come with a VERY basic continental breakfast. This is an area they could step their game up.
Another option is right next door. Motel à la Brunante Inc, this is a much more dated option, older style motel and the rooms reflect that. However, there is some benefits of this location. For one the price is a little bit less the hotel next door, the rooms are larger (more room for your gear), better continental breakfast and if you looking to add that 3rd person to your room they offer free roll out beds, they are definitely far from comfy but they do the trick. At this motel all rooms are ride in ride out so you can park right at your door.
My last recommendation is Auberge Château Lamontagne overlooking the St Lawrence is a beautiful stay that offers cottage rentals for larger groups. 
Dining Options
The town of Saint Anne des Mont offers up some good dining options from your basic Chip stand fried foods to fresh sea food. A personal favorite for myself would be Chaz Bass. Located just steps form the St Lawrence they offer a quality menu that has never disappointed. From burgers, salads, seafood, chicken and ribs and if you want to go bit they offer up a massive tomahawk steak. Chez bas sis a must when visiting. 
Snowmobile and Gear Rentals
With the growing popularity in backcountry snowmobiling in the area one location has recently started offering current of the year Polaris RMK rentals. If looking to show up and ride then Adventure Chic Choc is the only option currently in the area with the rentals. However, in order to rent one of there sleds you must also buy the package of guiding and accommodations with them as well. 
Unfortunately, if you forget something when you are down here or break something getting a little too wild in the mountains, the nearest town with dealerships that will have what you need is in Matane, about an hour drive from Saint Anne Des Monts. 
Risks of Snowmobiling The Chic Choc Mountains
All this vast terrain and deep snow pack is amazing but it does not come without its risks. And for this we strongly suggest using a guide service for example such as East coast backcountry adventures. There is risk of avalanche in some areas of the Chic Chocs (yes avalanches on the east coast) but the main thing that most underestimate is the amount of snow, and just how dangerous falling into air pockets made by buried trees can be.
If you don't know the area you will think is a nice open riding zone until you drop into one of these pockets. These can be found just about everywhere. Having a guide will help you know where its safe to ride and what ravines are ok to drop into and they will have an exit plan. The last thing you want is to drop into a ravine and find out there is no way out.  I strongly suggest having a GPS and good quality Walkie (BCA 2.0).
Related: Mountain Riding Must Haves
Why Do You Snowmobile The Chic Choc Mountains
I personally fell in love with the Chic Chocs for the simple fact that the area is always changing and I don't believe anyone out there can outride the location. There is always a terrain that can push your limits and keep you growing as a rider. I love the steep technical tree riding that can be found here. After many years of riding in the Chic Chocs I still am able to find new untouched riding zones that can take me out of my comfort zone and for that, I'm hooked for life!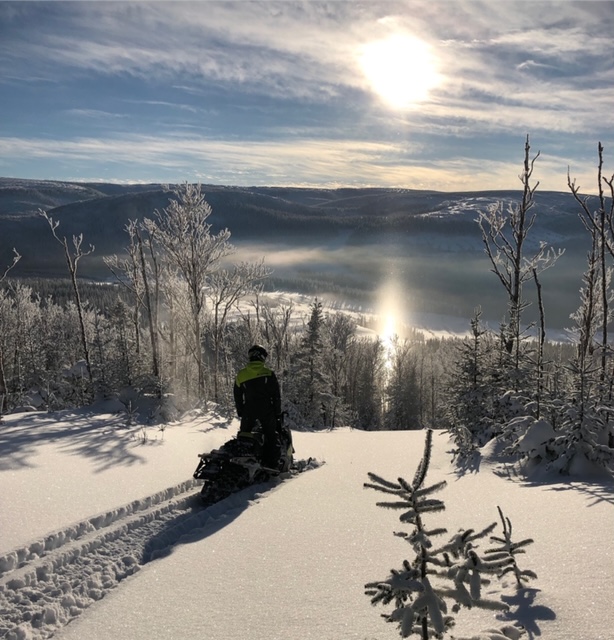 Related: Snowmobile Idaho, Snowmobile Island Park