Snowmobiling in Colorado, an absolute must if you are into backcountry snowmobiling. Home of the Rocky Mountains, Burandt's Backcountry Adventures and much more, Colorado has everything a snowmobiler could ever want. If you do not believe us, make a visit and then tell us we are wrong. 
Hit the slopes or stay on the trails. Take the family for a relaxing ride or find some natural features to hit with your best friends. The terrain has something for everyone to enjoy. Year after year Colorado brings in thousands of snowmobilers who come to create memories that will last a lifetime. Never turn down an opportunity to go snowmobiling in Colorado. 
Endless Fun For Everyone: Snowmobiling in Colorado
Do you love steep slopes, fluffy meadows, tree covered hillsides, lots of fresh powder? Look no further, Colorado has it all. If you live in Colorado, we envy you. If you are like us and live in the midwest, we would highly recommend making the drive out there to experience snowmobiling like you never have before. After going once you will be hooked for life. Below we have listed our top five places for the best snowmobiling in Colorado. 
Our Top 5 Places For The Best Snowmobiling in Colorado 
1- Rabbit Ears Pass 
This is a very popular destination. Many of you may have already been here. If you have not, you have probably heard something about it. Known for its abundance of good snow annually is just one reason snowmobilers flock to this location. Not far off you will find Steamboat Springs, a visitor hot spot featuring everything you could need and more. You will likely find yourself not wanting to leave. We really like the terrain Rabbit Ears has to offer and the snow has been good to us as well. For more info on road conditions, etc. click here! 
2- Buena Vista 
Home of Burandt's Backcountry Adventure. Need we say more? This place is a must visit if you are thinking about snowmobiling in Colorado. If you don't book a day with Chris himself, maybe you will run into him on the mountainside. From Meadows to steep tree riding, Buena Vista has something to offer every style of rider. If you are more of a trail rider looking to experience the mountains and all their glory, this is a great place to do so. Miles and miles of trails are a great way to get around and site see. Trails range from easy to difficult, so even the newest snowmobilers will be able to ride here! 
3- South Fork
Located a tad further south of Buena Vista, South Fork is also another great place to go snowmobiling in Colorado. With over 255 miles of groomed trails and lots of breathtaking views, South Fork attracts hundreds of snowmobilers every year. If you are worried about finding untouched powder, worry no longer. There are plenty of freshies here every year for everyone and their brother. Bring your whole crew, South Fork is ready for you! 
Related: Snowmobile The Chic Choc Mountains
4- Leadville 
Sitting high at 10,152 feet, Leadville is Colorado's highest incorporated city. Less groomed trails and more natural backcountry features make this a great place for those less interested in the trails and more interested in making their own path through the snow. The trails here are a great way to visit historic gold rush mining sites in the East Side Mining District. Just like anywhere in Colorado, Leadville has something for everyone to enjoy. Make a visit, you won't regret it. 
5- Grand Lake 
Our final destination. Grand lake is the perfect place for you to go if you want to park your truck and trailer at the lodge and ride your sled everywhere for the rest of the week. The streets become snowmobile highways in the winter time. Ride your sled through the town and to the trails. 300 miles of trails will keep you busy for the whole week. Beautiful Continental Divide views throughout the Arapaho National Forest along the western edge of the Rocky Mountain National Park are sure to impress and keep you coming back for more. Even the most hardcore riders can't deny the beauty of snowmobiling in Grand Lake, Colorado. 
Related: Top 5 Places To Snowmobile In Idaho
Preparing for Snowmobiling in Colorado 
If you know anything about snowmobiling in Colorado, you are aware that there are many risks, the biggest being avalanches. The Rocky Mountains are some of the world's most iconic mountains and also one of the most visited mountain ranges in the world. With such steep terrain these mountains are known for their avalanches. So much so that they named their professional hockey team the Colorado Avalanche. 
Having the proper gear and knowing how to use it is a must if you are planning on snowmobiling in Colorado. Be prepared, know the conditions, know how to use your gear, and never ride alone. Never make a trip into the mountains without a game plan. See our article "Mountain Riding Must Haves" for what you should have with you every time you go snowmobiling in avalanche terrain.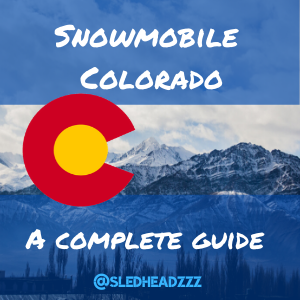 Related: Snowmobile Grizzly Lodge, Snowmobile Park Island Idaho